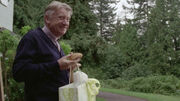 Reverend Fain was to be the priest at the wedding between Trish Wellington and Henry Dunn. He dies of decapitation in "Crackle".
Seven years ago, Reverend Fain presided over the memorial service for the six Wakefield victims at the East Lawn of the Candlewick Inn, as well as the funeral services at the "First Church of Harper's Island." Regarding the incident, he told Harper's Globe that "This island has been through so much. Many tears have been shed, but many more must fall before we can get passed this." While he acknowledged that the for some people, the services might be an unnecessary reminder, but stated that "As long as there is still one on this island who needs the shoulder of his neighbor to cry upon, then we owe it to them to be there."
In "Crackle", Reverend Fain met Maggie Krell and they had a conversation about the wedding's scavenger hunt. The two appear to flirt as he discovers Maggie has hidden scones in the bag of accessories for the hunt. Maggie reminds the reverend that the rehearsal wedding is on Friday, to which he replies "I've lost my hearing, not my mind."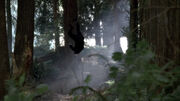 Shortly after leaving Maggie in "Crackle", Reverend Fain is seen walking through the woods. He hears a noise and adjusts his hearing aid. When the noises cease, he continues on until he is caught in a snare, knocking out his hearing aid. He is hit with a head spade, decapitating him instantly.
Reverend Fain is one of several characters to die in the episode they first appeared in.
It is later revealed that the reverend was killed by Henry Dunn, who reveals this to Sully as he is listing the people he killed.