Christopher Cullen was Wakefield's fourth victim in 2001.
Christopher Cullen was born on Harper's Island on September 29, 1951 to Jane and Louis Cullen. He worked on the docks with his father as a child, and greeted boats as they docked. Following high school, Cullen moved to Seattle and worked the docks there.
He moved back to Harper's Island with his wife, Wendy, four years later, and returned to the docks. His son Andrew was born a short time later. When his father passed away, Cullen took over as Harbor Master.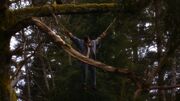 The day of the Wakefield murders, Cullen was late to his post and noticed a scuffle on one of the boats. As he went to investigate, the boat exploded and a man ran toward him with a fishing knife. Cullen ran, alerting people to run away and get help. He ran into the woods, where he was impaled with a head spade and hung at the Tree of Woe.
Following the murders, a memorial was built in Cullen's honor at the docks.