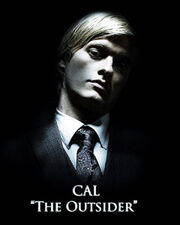 Cal Vandeusen was Chloe Carter's fiancé. He was a British doctor and knew no one else from the wedding party. Cal is stabbed and thrown from a bridge in "Splash".
Background
Edit
Cal was a graduate of Cambridge University, and studied neurological anatomy. He was an expert philatelist and a self-admitted pescatore.
On the Island
Edit
In "Whap", Cal Vandeusen knows nobody from the party and is quite uneasy. He becomes very jealous when he sees Marty Dunn dancing with Chloe. He later attempts to propose to Chloe, who remains unaware of his intentions as she playfully swims at the beach.
In "Crackle", Cal is tricked by Sully into switching teams so that Sully can be with Chloe. After a trip to The Cannery and several shots, Cal resolves to find Chloe. He quickly becomes lost in the woods and is caught in a snare. Sully discovers Cal a short time later, but cannot help Cal on his own and forgets about him until the bonfire party that evening. Chloe Carter, Christopher Sullivan, Abby Mills, and Malcolm Ross set off to find Cal, and he is discovered alive, still hanging upside down in the woods.
In "Sploosh", it is revealed that Cal was sailing with Chloe at the time of Thomas Wellington's death. At The Cannery, Cal learns that a local couple called Brett and Lisa have found his ring and attempts to reclaim it. While Cal fails, Chloe successfully retrieves the ring by pretending to be Brett's lover.
In "Snap", after being trapped inside The Cannery, Cal resolves to fetch the sailboat he had rented, with Sully deciding to go along. Before departing, Cal leaves the engagement ring with Chloe. He is soon shot in the shoulder in the parking lot, and Sully rushes him to the clinic, where Cal instructs Sully on how to extract the bullet.
In "Splash", Cal reunites with the rest of the wedding party, after discovering the sailboat is gone. He quickly notices Chloe has disappeared, and begins a hunt for her in the Island's underground tunnel system. He eventually rescues Chloe, who had been captured by John Wakefield. Cal asks Chloe to marry him, and Chloe happily accepts before they notice Wakefield approaching.
Chloe Carter and Cal Vandeusen run from John Wakefield, across a high bridge nearby which is over a river. The two run into a fence, blocking their path, and Cal pleads with Chloe to climb around it. As Chloe struggles with her footing, Wakefield finally catches up with them. Wakefield struggles with Cal before stabbing him through his collar bone. Cal looks at Chloe, saying her name one last time before being thrown to the river below and dying.
Cal is the only British member of the cast.
Cal is one of few characters to survive a major injury (being shot in the shoulder).