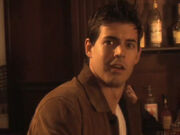 Ben Wellington is a former friend of Brent's, and cousin to Trish Wellington. He dies being mutilated by a boat propeller in "Whap".
He meets Brent at a bar in Seattle, leaving Robin with a bad impression. He reveals to them that he is in town for Trish's wedding to Henry Dunn.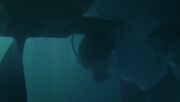 Ben dies in "Whap", being mutilated by The Tarapunga's propeller as it leaves port in Seattle.
Ben is the first named character in the series to die.

He is also the first named character to be killed by Henry.