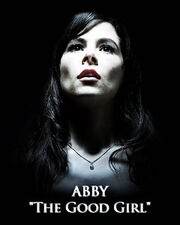 Abby Mills (portrayed by Elaine Cassidy) is a natural beauty in her mid-20s, originally from Harper's Island. She is the groom's best friend and his wedding brings her back to the island for the first time since her mother was murdered seven years ago. Abby's father, the local Sheriff, gunned down the psychopath at the end of his killing spree, but the event shattered Abby's relationship with her dad and left her haunted by her mother's death and the memory of the man who killed her. Abby is one of the survivors on Harper's Island.
Abby is one of the only four survivors of Harper's Island.
Abby is the only "good" character to have killed someone.